NGA breaks ground on new facility in north St. Louis
Nov. 21, 2019
SPRINGFIELD, Virginia
The National Geospatial-Intelligence Agency will host a groundbreaking ceremony for its new campus in north St. Louis Tuesday, Nov. 26, beginning a new chapter for the agency.
The ceremony will take place at 10 a.m. CT and is open to media.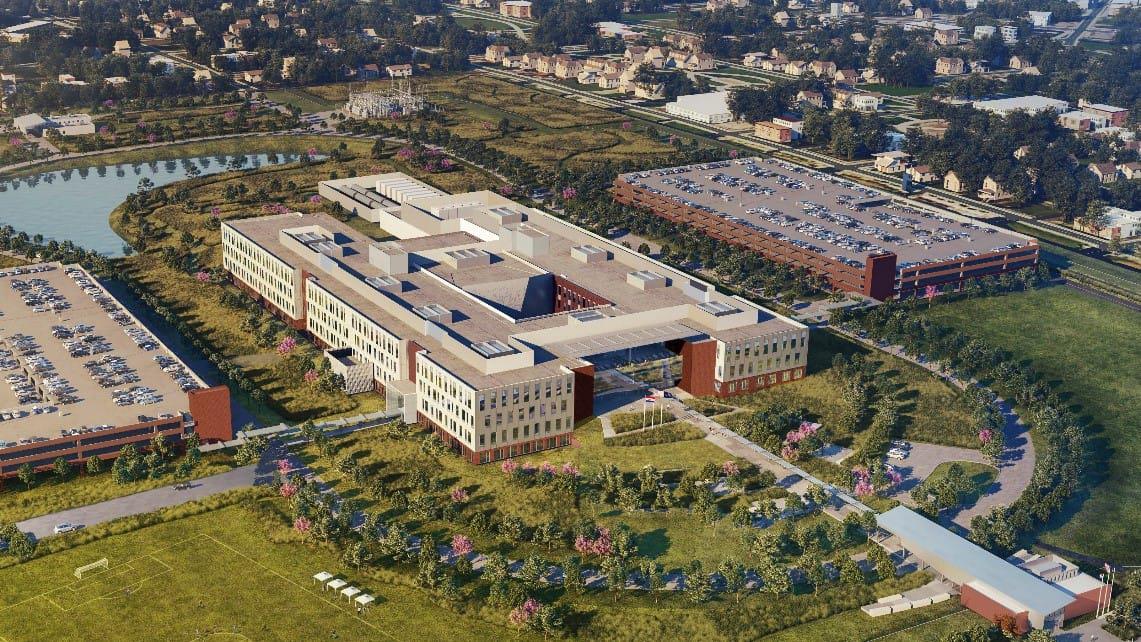 "The new campus will be a secure, flexible, cutting-edge intelligence facility that will put NGA in the heart of St. Louis' growing geospatial ecosystem and help NGA take advantage of its biggest strengths, its people and partners," said NGA Director Vice Admiral Robert Sharp.

The new NGA campus will be located at the corner of Jefferson and Cass avenues. The north St. Louis location puts NGA in the heart of a community of outstanding academic institutions and cutting-edge industry. It is scheduled to be open and fully operational by 2025.

"NGA's new campus will be built with spaces that will facilitate information-sharing and collaboration among NGA's and St. Louis's talented innovators," Sharp said. "Working together, we can better achieve NGA's mission of providing world-class geospatial intelligence to U.S. service members and leaders to keep our nation secure."
The new facility will include approximately 712,000 square feet of office space, parking garages, a visitor's center, an inspection facility and control access points. Plans are for the facility to include wireless technologies – which, while standard in private industry, has been a challenge for the intelligence community to adopt for a secure, classified work environment -- and for the facility to be built to Leadership in Energy and Environmental Design, or LEED, Silver standards for environmental sustainability.
The approximately 300 invited guests to the groundbreaking include Missouri Gov. Mike Parson, Sen. Roy Blunt, Sen. Josh Hawley, Rep. Adam Schiff, Rep. Lacy Clay, Rep. Ann Wagner, St. Louis Mayor Lyda Krewson, Acting Director of National Intelligence Joseph Maguire, U.S. Army Corps of Engineers Lt. Gen. Todd Semonite and many local north St. Louis residents – all NGA partners who played crucial roles in making NGA's vision for a new intelligence facility in the St. Louis area a reality.
Preparations for the new facility have been ongoing with NGA's partners since NGA announced its selection of north St. Louis as the site in 2016. The City of St. Louis officially transferred the 97 acres of land for the new NGA campus to the U.S. Air Force in December 2018. St. Louis-based McCarthy Building Companies and Falls Church, Va.-based HITT Contracting were selected as the design-build team leading the construction in March 2019.
With the groundbreaking, the U.S. Army Corps of Engineers will begin managing the construction on behalf of NGA.
"This groundbreaking is a testament to the thoughtful planning, hard work and good faith of NGA's people and partners in the St. Louis area, Missouri and across the county," Sharp said.
The new site in north St. Louis will replace NGA's current facility, which dates back to the 1840s, in south St. Louis. The decision to build a new facility came after a series of planning studies showed it would be less costly, quicker and less disruptive to NGA's mission to build a new facility rather than upgrade NGA's current facilities. It has not yet been decided what will happen to NGA's current campus, which also is owned by the U.S. Air Force, when NGA vacates the south St. Louis facility.
"NGA has been proud to call St. Louis home for the past 70 years," Sharp said. "I'm excited to see what NGA's people and partners in the St. Louis region can accomplish together for the next 70."​
Media interested in attending or with specific interview requests should email MediaRelations@nga.mil to ensure a spot on the attendee list. Please include the number of people attending from your organization and if you are bringing any significant equipment or trucks. All media members must provide credentials to access the site and will be subject to security screenings. The event will be held outdoors at a construction site; please dress for the weather and wear closed-toed shoes.​