NGA, Penn State partnership highlighted during leadership visit to university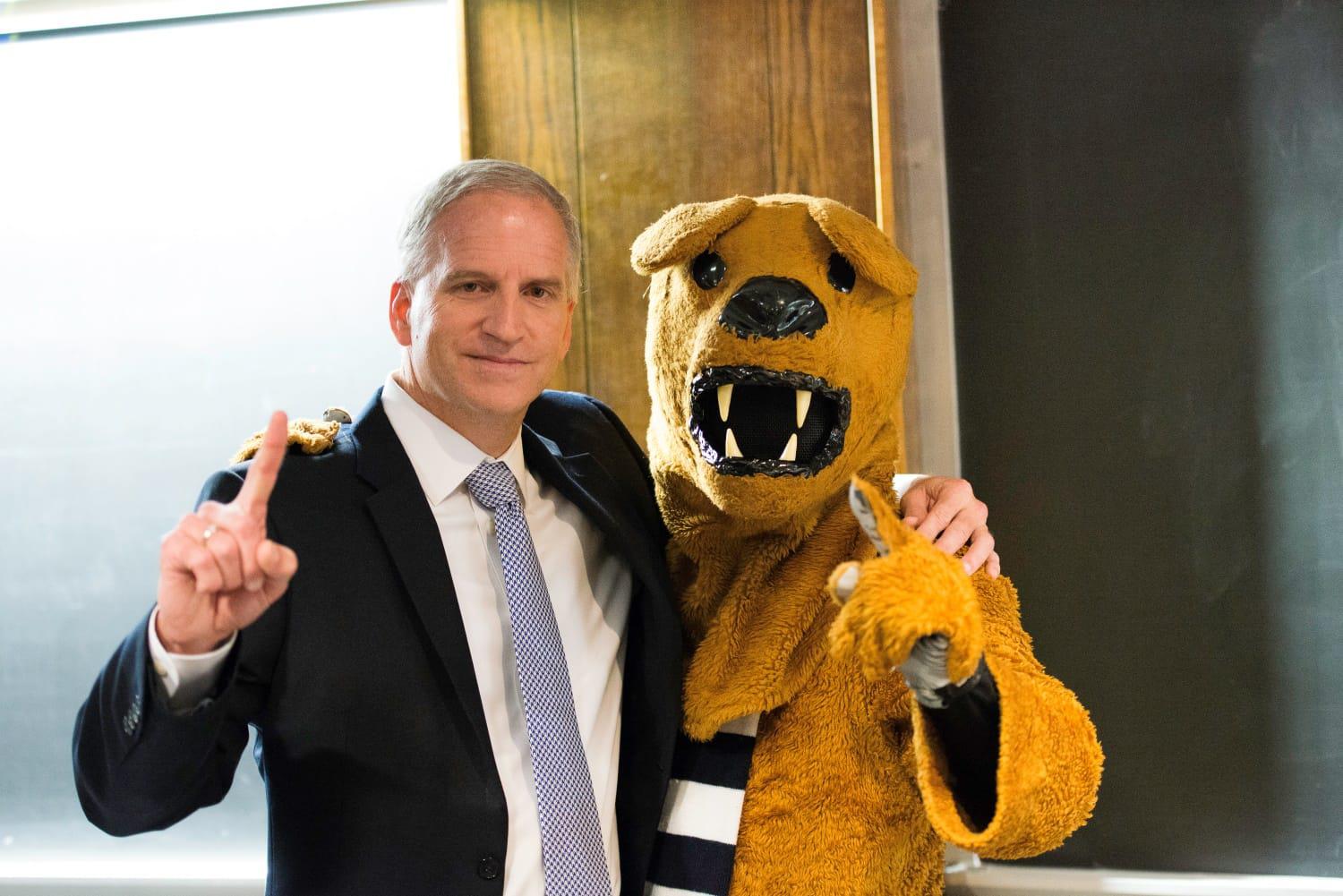 Photos by Alex Vavreck
National Geospatial-Intelligence Agency Director Robert Cardillo visited Penn State, one of 17 Centers of Academic Excellence in Geospatial Sciences, last week to engage with students studying to be geospatial intelligence analysts.
While on campus, Cardillo also visited GEOINT staff at the Applied Research Laboratory, was briefed on their research and findings, and candidly answered students' questions during a university "coffee hour."

Penn State is NGA's largest collegiate academic partner. The agency has one NGA University Research Initiative Grant with Penn State, two Cooperative Research and Development Agreements, or CRADAs, and 152 alumni currently serving in the workforce.

Staff at the university's Applied Research Laboratory, or ARL, briefed Cardillo and NGA Chief of Staff Ed Mornston on their work with Oculus eyewear and immersive intelligence. Cardillo challenged them to keep pushing forward with the science and application of their research, as well as to think conceptually and strategically.

"I maintain a deep appreciated for the ARL's work and look forward to being not only a customer, but also a partner, as we all work to add value to the challenge in the Arctic and learn to succeed in the open," said Cardillo. "As we know, there are valid requirements, needs and huge opportunities for our mission on the unclassified networks."

Cardillo and Mornston also visited the student-run Red Cell Analytics lab, in Penn State's College of Information Science and Technology, where they engaged with young analysts investigating threats and opportunities in a range of national security scenarios.

"Ed and I were both, to be frank, blown away," said Cardillo. "These students are doing more innovative work than I was able to do in my first few years in the intelligence community."

Students discussed their research on Malaysia Airlines Flight 370, which disappeared over Southeast Asia in March 2014, and their brief on findings to the director of the Transportation Security Administration. They also received first-hand insight into the Director's experiences in the intelligence community including his time as the President's daily briefer, as well as a personal invitation to visit NGA headquarters as Cardillo's guests.

The Penn State geography department faculty provided several briefs to Cardillo and Mornston during the visit. Topics covered included space-time dynamics, measuring social distance with resolution matrixes and using "CyberScience" to fuse remote sensing and social media.

"It was inspiring to see the elaborate methods geospatial intelligence is being used to further intelligence," said Cardillo.
The visit closed with Cardillo speaking to about 100 students at an informal "coffee hour" hosted by the university's geography department, where he covered topics ranging from the agency's GEOINT Pathfinder project to our role in the Arctic and fielded questions from students.

Cardillo was joined by Neil Sharkey, Ph.D., vice president for research at Penn State, to sign two five-year CRADAs with the university. The Nittany Lion, the Penn State mascot, was on hand to carefully read the fine print. The CRADAs will further the research conducted at the ARL and accelerate learning for the future geospatial analysts studying there.

John Gray, geospatial analyst and liaison officer to Nellis Air Force Base in Nevada, is currently enrolled in Penn State's online GEOINT Master's degree program and knows firsthand how the GEOINT education partnership between NGA and Penn State can add value to a geospatial intelligence career.

"Every day I see the return on this investment through increased warfighter GEOINT proficiency and analytic skills as I mentor the next generation of GEOINT professionals," said Gray. "I am grateful to my leadership for the support to continue my higher education and employee development through my participation in the PSU online learning environment."

Cardillo and Mornston ended their visit by attending the Operation Homefront's wounded warrior tailgate which was attended by more than 5,000 veterans and their families. They helped distribute lunch to participants and interacted with Army and Penn State supporters before attending the afternoon's football game.