How 30 years in the Marine Corps paved the path to NGA
How 30 years in the Marine Corps paved the path to NGA
Marine Capt. Phil Chudoba and team on the way home from Operation DESERT STORM
Forty-two years ago, NGA Associate Director for Capabilities Phillip Chudoba began his career when he enlisted in the United States Marine Corps. His path to choosing a career in the military was heavily influenced by military service members that came before him. Not only is Chudoba the son of a Navy submariner, he grew up in a neighborhood that was home to many World War II veterans.
"These older guys — who were the dads and the grandads in the neighborhood — were always around. These were predominately blue-collar working people who worked hard during the day and at night were available in the neighborhood to talk to the kids and provide mentoring," recalled Chudoba. "So I tell people all the time that I was bounced on the knees of some of the men who fought the Pacific War or the war in Europe … and through their stories I developed an appreciation for what military service really meant to the nation."
After three years as an enlisted service member, Chudoba sought his college degree from Rutgers University while attending the Marine Corp Officer Candidate School. Upon graduation, he received a commission and his first assignment as an officer was as an imagery interpretation officer. He was one of five imagery officers in the Marine Corps at that time and developed a deep fascination with this type of mission work.
"When I was an imagery officer as a lieutenant, we were still doing hard copy film. Some of those light tables you see in the museum, I used them," he said. "I was still serving in that particular role when we were crossing the seam in the transition from hardcopy to digital."
Chudoba says he still remembers when some of the space-based digital imagery came into the "receive location" they had at Camp Pendleton "and when the first mission came in, all of us Marines were staring at it just like otters … "you know how they stand up and look?"
We were thinking 'you have to be kidding me. How is it even possible that we have people smart enough to figure out how to do this?'" he said. "I'm just utterly amazed by it and I haven't really lost that fascination with the mission."
Chudoba chose to retire from active duty in 2010 when he was selected as the civilian assistant director for Marine Corps intelligence.
"I literally took my uniform off on a Friday and then put my suit on an went back to work on a Monday as an executive for the Marine Corps," he said.
After serving as the assistant director for Marine Corps intelligence for eight and a half years, Chudoba's boss – the Marine Corps Director of Intelligence- received a call in 2018 from then-NGA director, Robert Cardillo, who asked if he could interview Chudoba to be the director of the NGA Geospatial Enterprise Office.
"The thing is, I started my intelligence career as a squint and I thought it'd be really cool to go back into that because it was always super interesting to me," said Chudoba.
Marine Capt. Phil Chudoba graduates Naval Postgraduate School, Monterey, California
Lessons learned as a Marine
The 30 years that Chudoba spent serving his country as a Marine had a direct impact on his success as a civilian and prepared him to take on a leadership role at NGA. He said that the biggest takeaway from this military experience is the importance of trust. Knowing people are prepared to do the job and deliver every day; cultivating relationships that are built on honesty and integrity and remembering to let your team take the credit for their work are all integral parts of leading an organization and are foundational elements of the military experience.
"You're a member of a team," he said. "The Marines epitomize that, in my opinion, more than any other organization on the planet. When you're a Marine, you understand that the individual exists for the team and the team exists for the mission."
Chudoba carries what he learned during his time in the Marines with him in his role at NGA. He shared the three most important lessons he learned:
— "We're all people…I think it's so important to understand that even when you're a part of a big organization and we all sometimes feel like we're just a cog in the machine, these are people and people notice whether or not you're going to treat them like people. If you treat them like people, if you treat them like they have value…because they do… it's amazing what they're willing to provide in return."
— "Believe in redemption; we all fail, but as professionals we can learn from our failures and be stronger, be better… as leaders, it's important for us to believe in redemption."
— "Legacy and history matter a lot … those are the kind of things that glue an organization together so I think it's important to understand organizational history, to understand the purpose of why the organization exists — to share that, to celebrate that, and to live it."
"If you put these things together, you get a team that not only performs every day, but the magical thing is when you go away, they're still performing," he said. "If you've really done your job right, you don't even need to be there."
"When you look in the rearview mirror of your life, that's the thing that matters — the impact you had on the people that are going to carry it forward," he concluded.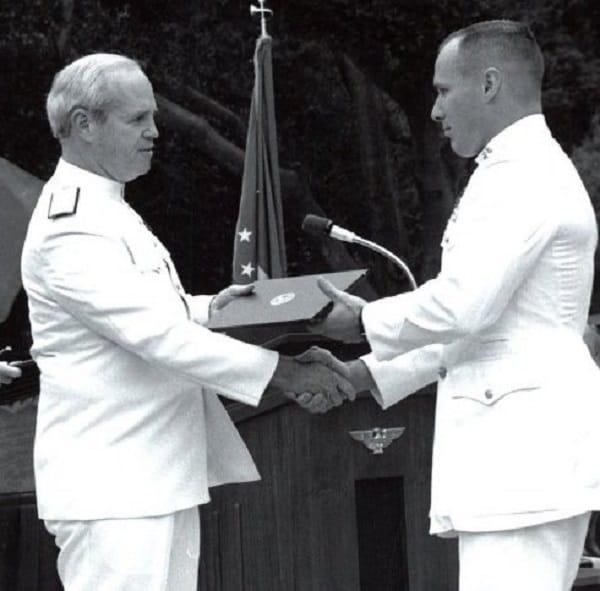 Marine Pvt. Phil Chudoba at Marine Corps Recruit Depot, Parris Island, South Carolina
Impact of military service members on NGA's mission
When asked what unique role he thought military members at NGA play in propelling the mission forward, Chudoba shared that he views them as the voice of the user.
The military heavily relies on the products that NGA produces so, he says, so "it has to be right, it has to be fast, and it has to be aligned to their mission … [Military members] teach us how GEOINT is used in all different ways from humanitarian assistance and disaster relief to full scale combat operations."
Chudoba acknowledges that he comes to NGA and leads the agency with a warfighter bias.
"When it boils down to what needs to be done to secure our nation's interests, I do believe that the military is the predominant instrument … we're accountable for giving them the capability they need to be lethal on the battlefield and just as importantly, giving them the capability to be survivable so that they can come home; these are two sides of the coin that we should hold in our pocket all of the time."
In honor of Veterans Day, Chudoba closed the interview by stating.
"I appreciate every one of our veterans and I also appreciate people who take time to acknowledge those who serve."